Synthicide: Sharpers in the Dark
Synthicide: Sharpers in the Dark is a rerelease of the popular 2017 Synthicide RPG using the Forged in the Dark engine.
In Synthicide, the Galaxy has entered a dark age where human life has no value. Sharpers have to fight for their lives, while trying to earn enough money for food and spaceship fuel. Create characters who are a mix of lethal skills, high tech cyberware, and unique mutations
If you loved the original Synthicide, this is a chance to experience its galaxy in a whole new way. The planets are updated to provide location-specific mission ideas, and the baked in faction system brings the galaxy to life.
If you're a fan of the Forged in the Dark engine and new to Synthicide, try the game to see how Synthicide's grimdark, lethal cyberpunk themes are expressed in a perfectly suited system.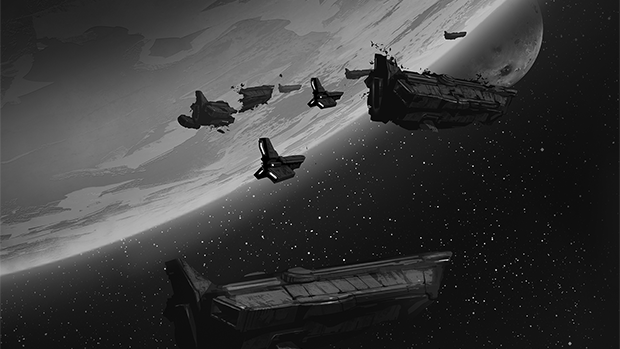 Quickstart
Interested in trying out Synthicide? Check out the free quickstart! This version of the game comes with everything you need to play a one-shot of Synthicide: Sharpers in the Dark, including 3 playbooks and bioclasses, 1 crew, and 1 ship, as well as a prewritten score: Barbarians' Cause.
Print and digital versions available on DriveThruRPG!
Based on Blades in the Dark, a product of One Seven Design, developed and authored by John Harper, and licensed for use under the Creative Commons Attribution 3.0 Unported license.

Purchase
In order to download this game you must purchase it at or above the minimum price of $15 USD. You will get access to the following files:
Synthicide-SharpersITD_hi.pdf
10 MB
Synthicide-SharpersITD_lo.pdf
4 MB
Playbooks_SITD.pdf
188 kB
BioClasses_SITD.pdf
118 kB
Exclusive content
Support this game at or above a special price point to receive something exclusive.
Community Copies
Free copies of Synthicide: Sharpers in the Dark for anyone who wants to check out the game but is lacking the finances to do so. If you're experiencing any economic hardship, these copies are for you. Everyone who purchases this game adds more copies to the pool for others to claim.
Download demo