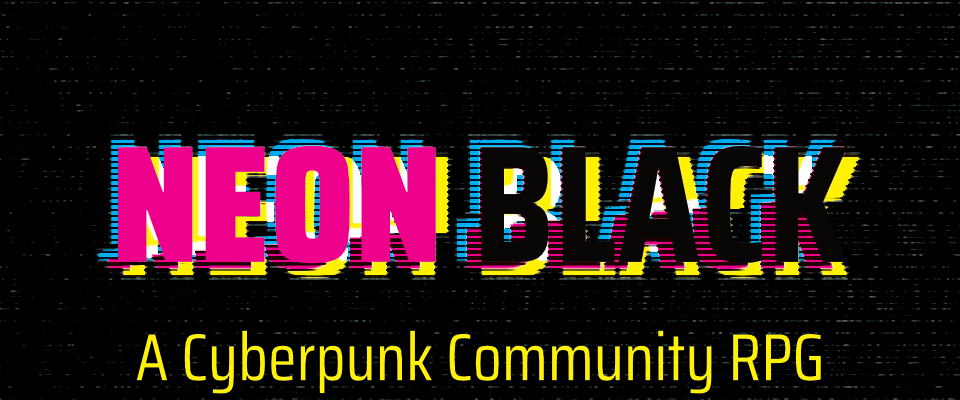 Neon Black
KILL THE RICH
TAKE THEIR MONEY
SAVE YOUR FRIENDS
Neon Black is a role-playing game about a community of poor people fighting back against tyrannical corporations and the indifference of the rich, as well as surviving in a dystopian city state. It's like real life, but in this world you can kill the CEO's, rob banks to pay rent, and help your friends do the same. You'll help your community, go on dangerous heists, explore artificial realities, and encounter friendly and nefarious machines. We play to find out if the community can survive amidst warring corporations, an unforgiving climate, and the negligence of the extravagantly wealthy.
Capitalism sucks. The rich are villains. Community rules.
Build one of 4 cyberpunk communities (the street of Tannhauser Way, the spaceship Chariot, the ruins of the City of Nod, a massive apartment complex known as The 55) complete with unique contacts, opportunities, and complications that enrich your story
Play as 8 unique characters (Decker, Merc, Operator, Synth, and more) each with narrative milestones that help define your character and the community, and drive the story forward
Spend luck to push yourself for better results and inject chaotic calamities into the narrative
Form bonds with PCs and NPCs to better your odds and define your beliefs and relationships through play
Explore the rich setting of Prime City, including dozens of corporate and underground factions
THE ARCHIVE
Anyone who purchases or has purchased Neon Black now has access to all 7 iterations of the rules. Check out the initial prototype created in 2018, the very brief version 3.0 that no one saw, and all the odd rules, dead ends, and forgotten files that make up Neon Black's history. The archive includes:
Mostly complete rules for 6 previous versions of Neon Black
Character and crew playbooks
Reference sheets
Maps of the 'Net
Defunct corporations
And more
There's a lot in there, and stuff is probably missing or wasn't tested much. You've been warned.
Playsheets
All the sheets you need to play are available free to download by clicking on this link (you'll be asked to create a copy of the spreadsheets). These will allow you to play the game digitally or to print and play at home.
Credits
Written & designed by Michael Elliott
Downtime scenes by Sam Dunnewold
Cover art by Megan Ellis

Based on Blades in the Dark, a product of One Seven Design, developed and authored by John Harper, and licensed for use under the Creative Commons Attribution 3.0 Unported license.

The Sounds of Prime City
Tunes for getaways down neon streets, smoking e-drugs, and robbing banks.
Purchase
In order to download this game you must purchase it at or above the minimum price of $15 USD. You will get access to the following files:
Neon Black Rules v 7.3.pdf
29 MB
The Neon Black Archive.zip
72 MB
Exclusive content
Support this game at or above a special price point to receive something exclusive.
Community Copy
Everyone who purchases this game provides a copy for someone to download free of charge. These community copies of the game are intended for those who are experiencing financial hardships and cannot pay for a copy. If you want to check out this game and cannot afford the price, help yourself.
You can also get this game, and all my games, for a small monthly pledge on Patreon or Ko-fi.
Comments
Log in with itch.io to leave a comment.
Are there any Character Sheets?
Hello!
I'm an aspiring graphic designer and for a school project we had to design a book and seeing as I really like Neon Black I decided to chose that as my subject!
Can I maybe send you the pdf somewhere? I'd love to hear what you think!
Absolutely! Send it along to michael(@)notwriting(dot)net!
Any news regarding print?

My first (and probably only) choice of publisher turned me down, so I'm likely going to need to Kickstart my own print run. No plans to do that in the immediate future, but definitely one day!
Dunno who your 1st / only pub was, but this feels like it'd be right at home with Evil Hat or Magpie, so maybe they're worth contacting? Don't abandon hope after one attempt, that's how The Man wins!
Why not self-publish via DriveThruRPG?
I might! I've spent the last year or so learning how to do crowdfunding campaigns in preparation to do one for Neon Black, and that is one possible avenue.
That seems like the most logical choice at this point. I'd love a printed copy with cool artwork on my shelf. 😁
Been running this game for my roommates for the past several months. We had been looking for a Forged in the Dark game that was explicitly anticapitalist, and this was exactly what we wanted. Love the tweaks to the original Blades format. Excited to run it for different groups in the future.